History
The Rocky Mountains, often called the Rockies, are a mountain range in western North America. The Rocky Mountains stretch more than 4,800 kilometers (3,000 miles) from northernmost British Columbia, in Canada, to New Mexico, in the United States. The range's highest peak is Mount Elbert in Colorado at 14,440 feet (4,401 meters) above sea level. Though part of North America's Pacific Cordillera, the Rockies are distinct from the Pacific Coast Ranges, which are located immediately adjacent to the Pacific coast.
The eastern edge of the Rockies rises impressively above the Interior Plains of central North America, including the Front Range which runs from northern New Mexico to northern Colorado, the Wind River Range and Big Horn Mountains of Wyoming, the Crazy Mountains and the Rocky Mountain Front of Montana, and the Clark Range of Alberta. In Canada geographers define three main groups of ranges: the Continental Ranges, Hart Ranges and Muskwa Ranges (the latter two flank the Peace River, the only river to pierce the Rockies, and are collectively referred to as the Northern Rockies). Mount Robson in British Columbia, at 3,954 meters (12,972 ft), is the highest peak in the Canadian Rockies.
The western edge of the Rockies, such as the Wasatch Range near Salt Lake City, Utah, divides the Great Basin from other mountains further to the west. The Rockies do not extend into the Yukon or Alaska, or into central British Columbia, where the Rocky Mountain System (but not the Rocky Mountains) includes the Columbia Mountains, the southward extension of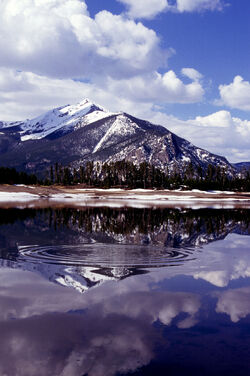 which is considered part of the Rockies in the United States. The Rocky Mountain System within the United States is a United States physiographic region.
Notes
Trivia
See Also
Links and References
Footnotes